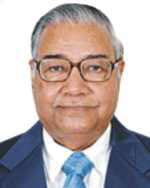 P.K.Jain
B.E Textile (Bhiwani), Gold Medalist Chairman
With the advent of globalization and rapid advancement in economy, enormous opportunities have been thrown open at the doors of Indians. The Indian government also realized that there is going to be big demand for well qualified and highly component technical personnel in the nation as well as in other advanced countries of the world.
With this scenario in mind, we decided to set up an engineering college which could offer exceptional facilities comparable to World Class College. There were a large number of private engineering college in South India, but very few in northern part of India. Also, the standard of teaching as well as the infrastructure, in many of these institutions, was not up to the mark, we ensured that the student in Kanpur Institute Of Technology and Kanpur Institute Of Technology Of Technology Pharmacy receive the high quality education and training in congenial atmosphere.
We hope earnestly in that the aspirants of engineering, computer application, business administration and pharmacy will find here opportunities and after graduation would be the leaders in their respective field.