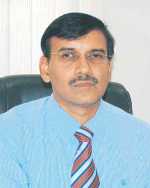 Vipul Jain
B. Tech (IIT-D), MBA (USA)
President
The journey which began in 2004 with the start of Kanpur Institute of Technology is now completing twelve years. In between the institution became KIT Group of Institutions with start of Kashi Institute of Pharmacy. The vision of the promoters continues to be the establishment of the world class institution that is academically one of the best in the northern region.
Education is the need of the nation, and the number of colleges coming up every year ensures that opportunities for higher education keep on increasing. However, the dearth of quality institutions is still a reality. Despite UP TECHNICAL UNIVERSITY becoming one of the largest in the country, it is trying valiantly to cope with the problems which come with mushrooming growth. Parents and students still have maximum faith in government colleges as their first choice despite the absence of key infrastructure. And it is the very excellence of the student base which works in their favour. However, private institutions have also been differentiated by older and newer institutes; the preference of students is still towards private institutes. So we have had to face the reality that a vision takes years in taking shape, and thus the continuous efforts of the promoters in realizing the vision.
KIT has been able to establish certain major landmarks. Firstly, the acceptance of Kanpur as an education hub besides the Big Three, the city is now home to over 25 engineering colleges. Secondly, the focus on training and placement has made the institute the leader in offering highly diverse training programs, both on and off campus, all year round. This has resulted in a large number of companies coming for on campus recruitment, with the resultant high placements. Other colleges lie about the placement; KIT does not need to lie since its records are outstanding. Thirdly, concentrating on excellence by not expanding into another institution, thus ensuring that our focus is on quality rather than quantity!
The year ahead will see KIT Group of Institutions consolidating and improving its standing in academic circles. The focus on improved infrastructure, better faculty and better results will continue, and hopefully the vision of the promoters will become a reality in the near future.