A robust Academic base is the foundation stone upon which a successful career is built. Keeping this as the central thought, we at KIT, offer an excellent and conducive academic environment to our students. It is our responsibility to guarantee a hassle free learning atmosphere for every single student of KIT and I am glad to assert that our faculties have shouldered this responsibility in an excellent manner.
The institute is equipped with high class study infrastructure including projector styled classrooms and well furnished laboratories with all the modern apparatus. Highly qualified faculty with excellent knowledge base and vast experience leaves no stone unturned to deliver the academic concepts to our students in a lucid and interesting manner. The supporting staff plays its role with utmost sincerity and dedication to add maximum value to the learning of our students.
Conduction of seminars and conferences in various areas of study are a regular feature at KIT, This not only keeps our students and faculty members updated with the latest knowledge but also gives an opportunity to them in sharing their thoughts and satisfy their queries, which is an essential feature of a growth oriented society. I am pleased to share that these efforts are visualized directly in the performances of our students.
To conclude, I would like to emphasize on the fact that we at KIT believe in producing professionals of high class, who are not only well trained to face the rigour of the professional world, but also have deep rooted ethical, moral and social values. In a nutshell, value based holistic education is what we deliver and believe in.
MESSAGE FROM DEAN, PLACEMENT & CORPORATE RELATIONS CELL
The core policy of Kanpur Institute of Technology has been to impart quality education in the field of Engineering & Management. We understand the competitive levels along with the need for adaptation to the fast paced corporate world, and strive to prepare our students accordingly.
We at our institute use rigorous and intensive integrated teaching methods to prepare the students to take up professional positions in any environment. The institute lays emphasis on the combination of core subject and soft skill courses which lead to total personality development of the students.
Recenty Kanpur Institute of Technology has taken a visionary initiative of establishing In-house Skill Development Cell for its students pusuing various professional courses from the college. The objective of this cell is to impart the training directed towards overall personality and soft skills development of the students. The cell focuses on training and counseling of the students with three dimentional approach of developing their positive attitude; behavioral skills and effective communication skills to give an edge to the 'Employability Skills' of the students studying here at KIT.
We wish you all best of luck and prosperous career with us.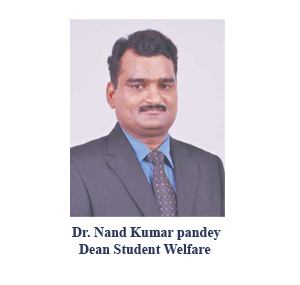 FROM DEAN STUDENTS WELFARE'S DESK
We welcome all the new aspirants in Kanpur Institute of Technology (KIT). Student's welfare cell is primarily concerned with student's welfare. The cell is dedicated towards inculcating not only a healthy relationship between the students and the faculty/staff of KIT but also nurturing the students so that they develop an all round personality and become responsible citizens of INDIA.
At KIT we provide ample scope, opportunities and facilities for the all round development of personality and leadership qualities of the students through various cultural, literary, sports, social and club activities. A student is expected to reflect under all circumstances proper respect for order, morality and rights of others and such sence of personal honar as demanded of good citizens. The institute reserves the right to drop any student whose conduct is deemed improper or prejudicial to the good order and interest of the institute. We desirious that the KIT students become ICONS in their respective desciplines.
If you have a need or concern, no matter how big or small, do not hesitate to visit the office of the Dean Student's Welfare for assistance.
FROM DEAN SKILLS DEVELOPMENT CELL
We at Kanpur Institute of Technology strongly believe that through consistent guidance, supported with skills development and beyond-classroom experiences, students will be able to achieve success.
As an engineering and management college, we aspire to accelerate the process of youth obtaining gainful employment and enhance productivity of employees in organizations through skills development programs. So at KIT we not only encourage students to set high goals but also provide the tools, training, and support for them to reach their aspiration and realize their potential. We promote the importance of understanding and honing soft skills. These, when combined with technical skills create a basis for every student to succeed and achieve their full potential.
Our excellent facilities, and our dedicated faculty and staff are devoted to serve the needs and help our students to achieve their educational ambition.
We are committed to provide our students with an outstanding education that includes a strong experiential component. As today's corporate world is rapidly changing, we prepare our students by providing the education and skills that they will need to flourish as professionals.