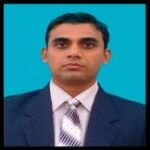 Dr. Prashant Kumar
Academic Coordinator
Welcome to the Kanpur Institute of Technology and Pharmacy, Kanpur.
In today's competitive world, a professional and specialized education is necessary for future success. Kanpur Institute of Technology and Pharmacy is committed to delivering a world-class educational environment. The primary emphasis is on 'creative learning' based on novel concepts. Internships are available to provide exposure to industry professionals. In addition to providing a complete education, Kanpur Institute of Technology and Pharmacy (KITP) prepares students to face any obstacle in their personal and professional life. The courses, as well as the frequent seminars and workshops, serve to refine leadership abilities and keep students up to date on the newest advancements in their sector. Thus, students are at the forefront of pharmacy and healthcare, whether in medication formulation and development, community practice, academic research, or government service.
We ensure that our students receive the appropriate training to prepare them for industry and to excel in the field of their choice and career pathways.
KITP provides a suitable atmosphere for students to be quickly integrated in industry and pursue good jobs.
I am assured that my students become Researcher, managers, outstanding scientists, entrepreneurs, and future leaders and are placed from all around the country.