Entrepreneurship Cell, KIT Kanpur
INTRODUCTION
The Entrepreneurship Cell of Kanpur Institute of Technology(KIT), Kanpur was established in with the aim of instilling an entrepreneurial spirit among individuals. With immense enthusiasm, we work towards bringing forward the concealed potential held by today's youth for the betterment of society. We operate on our goal by bridging the network gap that exists in the entrepreneurial ecosystem. By creating an efficient channel comprising students, entrepreneurs, investors, mentors, venture capital firms and industry experts, we aspire to break all barriers hindering growth in India's startup sector. In addition, we strive to create an avenue for students to sharpen their business insight and skills through competitions and interactive speaker sessions.
VISION & MISSION
The Entrepreneurship Development Cell of KIT, Kanpur seeks to transform how entrepreneurship is perceived in society. We firmly believe that entrepreneurship is the key to fostering innovation in India and promoting the values surrounding entrepreneurship will result in attainment of the full capacity of the youth's aptitude. We hope to create a future where the youth views entrepreneurs as statues of inspiration and entrepreneurship as a viable career option.
Certificate: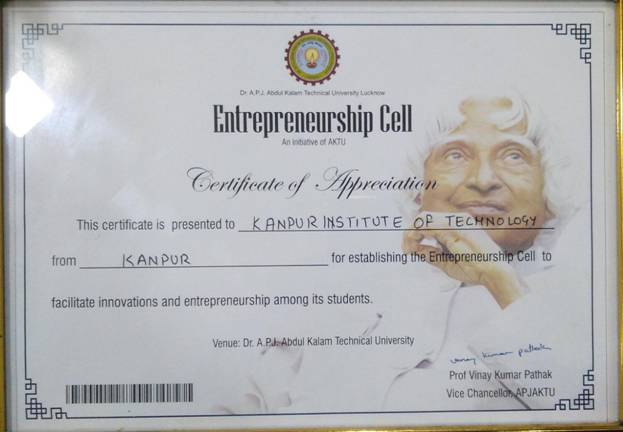 Acitivities
1.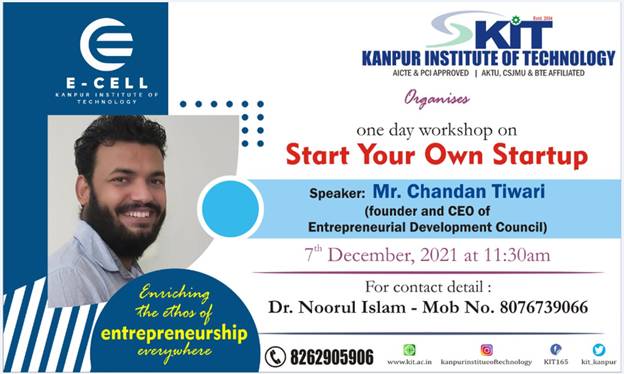 2.
The E- CELL of Kanpur Institute of Technology is organising One day Online Workshop on Entrepreneurship.
Date – 24th February , 2022
Time -11.30 am to 12:30 pm
Speaker Name –Mr. Ranjan Mistry , Mr. Raman Kumar & Mrs. Priya Pandey
Registration Link :
https://docs.google.com/…/16Todudq0giOAXTmNKsGDjo6…/edit
Benefits :
NO Registration FEE
E-certificate for attending workshop.
About the Speakers : Mr. Ranjan Mistry is the Founder of Plant Eco Circle , Startup city & Campus Varta . He is also co – founder of Skills Minds Foundation and your Story Ambassador in Bihar . He is well recognised at National and International Level whereas Mr Raman Kumar is the Founder at Agrifeeder Agricultural Services Pvt. Ltd. and Mrs. Priya Pandey is the Co founder at Agrifeeder Agricultural Services Pvt Ltd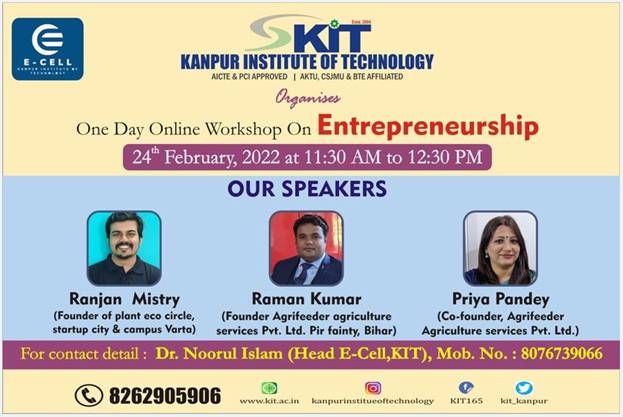 4.